Reading Time:
5
minutes
If you're happy that it's Friday give a shout! If you're happy that it's Friday and you're looking for weekend plans, give another shout because we've got you covered! Our resident event guru has a whole bunch of exciting options for you to sink your teeth into this weekend. Whether you're up for an adventure, want to make plans with popcorn or cozy up on the couch, check out what's on in our weekend planner below.
Want to Go Adventuring?
Family fun at The Mez…
Do you enjoy great music, fresh air, a great playground for the kids and plenty of food options when you have a family afternoon out? Then the good news is The Eats & Beats in the Laneway sessions, running each Sunday afternoon, at The Mez in Mount Hawthorn have started back up.
The Mez has an outdoor eating & playground area with local cafes and restaurants and regular food trucks. With all those options you can be sure the whole family will find something that they love. Plus you'll all be entertained with live music for the adults and a playground for the kids. Find all the details here.
Graze your way to deliciousness …
Have you been drooling over grazing boards on Facebook, Instagram and Pinterest? As spring starts and we head into picnic weather are you thinking about how to wow your friends and family with your grazing board skills?
This Saturday The Cheese Cathedral at European Foods is holding a Tapas Grazing Board Masterclass!
Learn all the special tricks from the professionals on how to take your grazing boards to the next level. The cost for this hands-on class includes all the ingredients to make your own grazing board to take home, even the beautiful board it comes on. So book now and start planning your chance to impress your friends.
Colour your world…
Pastel artist and member of Perth arts, Donna Woodhouse is running a Get Messy with Pastels Mini Workshop and Demonstration this Saturday at Arts & Crafts Morley. Wonderful opportunity to learn all things pastel with an artist who has passion and experience with pastels. Plus you can connect in with a network of artists and people passionate about art from all over Perth. Book you ticket here.
Popcorn Plans?
 Travel back in time…
Over this weekend, you can travel back to the 1990s with all 4 of the Batman Original Film Series showing over the weekend. Re-discover Tim Burton and Joel Schumacher's original series at Hoyts Cinemas and see it the way they designed it to be seen. Watch them all and work out which batman was best, Michael Keaton, Val Kilmer or George Clooney! On the other hand, if you are like me you'll decide that Uma Thurman as Poison Ivy was the best of them all.
Go on an Excellent Adventure…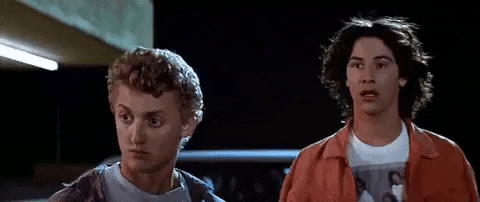 The next instalment of Bill & Ted's Adventure film is coming soon! With almost 20 years between films, now is the perfect time to experience the originals again on the big screen before seeing the new one coming out in September. Besides, it is always a good idea to see Keanu Reeves!
See them at the following cinemas this weekend:
Event Cinemas as part of their Best of the 80s series. Cheap tickets and even more 80s films to discover it a great way to introduce your kids/teens to some old 80s classics.
Watch them both in a double adventure session on Saturday night at The Palace Cinemas, Raine Square and make it a full night out. With great restaurants right near the cinema, it's a great date night plan.
Get immersive with your viewing at  Luna Cinemas on Sunday with a completely new way to watch the film. Come dressed up as your favourite character to win prizes. Each ticket comes with a goody bag that includes all you need to play along through the film and immerse yourself into it with the whole audience because with this session you aren't just watching it, you are IN the film. This is an 18+ session with some crude humour involved!
Be inspired by just two wheels…
The Big Bike Film Night is here and for one night, only you can see the best cycling short films from around the world. So grab your bike enthusiasts, book tickets and prepare to be inspired.
Couch Cosies?
Family night in…
Magic Camp (PG) on Disney Plus is the perfect movie night in with the whole family. Sweet, sometimes funny and holding a great message this film brings in some bigger names (Adam Devine, Pitch Perfect & Gillian Jacobs, Community) and a whole pile of newcomers. Get the magic box ready and prepare for the kids to be inspired to become illusionists themselves after watching this heart-warming film.
Cosy night in…
The Guernsey Literary and Potato Peel Pie Society (M), now available on 7Plus for a limited time is the perfect snuggle on the couch with a hot chocolate and cheese platter film. Following the story of a group of seemingly unrelated residents from Guernsey Island you'll find yourself laughing and crying along with them as they face and then heal from the impact of World War II. Based on a book that is well worth a read.
Wanting to watch something a little closer to this decade? Spotlight (M) on SBS OnDemand is only available to stream for another week. Based on the true story of The investigative journalists reporting on the cover-up of sexual abuse within the Roman Catholic Church in Boston. It's a great look at how investigative journalism can be a powerful tool to protect the general public.
Bringing the crime mystery back …
The classic Australian crime drama Halifax F.P is set to come back next week, after 19 years, with a brand new season. So before the new season hits, go back, experience the originals and brush up on all your Halifax knowledge on 9Now as they have the whole original series available to stream.
And don't forget to check out Jeziel's top pick for this week Love on the Spectrum on Netflix.
Tune in during Classic Drive next Friday during the 3 pm or 5 pm hour more ideas on how to spend your time over the School Holidays! Plus as always the Sonshine Diary also has plenty of other options for your weekend plans.

If you'd like a chance to win a double pass to use at Hoyts Cinemas, simply tell us which of the above events your most excited to attend! Comment your favourite event on our Facebook competition post and tag a friend – then you'll be in the draw to win!

Brought to you by Hoyts Cinemas.