Reading Time:
4
minutes
If you're happy that it's Friday give a shout! If you're happy that it's Friday and you're looking for weekend plans, give another shout because we've got you covered! Our resident event guru has a whole bunch of exciting options for you to sink your teeth into this WA Day long weekend. Whether you're up for an adventure, want to make plans with popcorn or cozy up on the couch, check out what's on in our weekend planner below.
Want to Go Adventuring? 
Get out and see WA…
The restrictions have eased & with a long weekend why not take advantage of that! If you are looking for just a day trip out with a scenic drive we've got some ideas for you!
Raeburn Orchards in Roleystone is spectacular this time of year, with the leaves turning & starting to fall this picturesque orchard will make for some stunning pictures while you have a fun autumn adventure. It is also pet friendly so take those dogs out for an extra special walk. Family owned & operated means your adventure can support local plus you can pick up some fresh local produce &/or flowers at the same time. Note there is no fruit picking available due to COVID but professionally picked produce & self-guided tours are still available with social distancing.
Toodyay, just over an hour out of Perth, has the famed Cola Café & Museum! A 50s style diner with a unique collection of Coca-Cola memorabilia now with over 6,000 items. Toodyay also boasts quite a few vintage stores & is a fun unique day trip.
Nambung National Park, approximately 2 & a ½ hours from Perth, is home to The Pinnacles Desert and more. The park has a loop trail and boardwalk where you can see some fascinating natural phenomenon's plus a Discovery Centre with plenty for the kids to enjoy learning about. Park entry fees do apply. Click to find out more.
See a play in a different way…
The threshold theater have brought together partners form WA. SA, QLD & Vic to put on a virtual play designed to resonate with all, especially kids, in these strange times.  Mountain Goat Mountain is an audio led theater experience that can be enjoyed at home through a series of activities helping your whole family step into a magical & imaginative world. Suitable for ages 5+ and with an affordable family pass that last for 30days get ready to make an adventure with the whole family this long weekend. Find out more here.
Popcorn Plans?
Not sure what out of the vast varied things available you should watch? Here are some ideas to get you popping the popcorn this weekend.
Reconciliation Week Film Club…
SBS On Demand has a whole host of fantastic film curated specifically for Reconciliation Week of Indigenous documentaries & shows from Australia's leading Indigenous filmmakers. Get friends and family around to watch with you or host a viewing for the Indigenous Film Festival films. Create an opportunity to open conversations that can hopefully have an impact and create change.
Connect20 Online…
With the Australian Media and arts Summit going online you get the rare opportunity to attend virtual performances & talks from musicians & speakers from Australia & around the world.  Musical performances from musicians like King & Country, We Are Messengers, Michael W Smith and more.  Or you can tune in for talks from international speakers like Bob Goff & Dr Caroline Leaf.  Get all the details on how to register for these free virtual events here.
Virtual Movie Premiere…
This weekend is the virtual movie premiere for Same Kind of Different As Me. Staring Greg Kinnear & Academy Award Winner Renée Zellweger this is an inspirational story of friendship, family & forgiveness that shows how a simple act of kindness can change everything. With special pre-show content & a live Q&A this special online premiere is more than just your standard streaming experience.
 Couch Cosies?
Running out of things to do at home? Check out some of the newest game, book or activity ideas below.
New bedtime stories with a twist….
J.K. Rowling is releasing a couple of chapters at a time, free online, a new book!
As part of her isolating at home during COVID she came across a fantasy fairy-tale story she wrote over 10 years ago as a bedtime story for her kids. This story has been re-written often over the years as she shared with her kids. So after being packed away for years she & her family decided, it in these difficult days, it was time to share it with the world.  Her kids (now grown up) helped her finalise the final version of the story and she is realising it for FREE online a few chapters at a time so parents can share this with their kids over the next few weeks.
What is even more special is that the kids reading it will get a chance to illustrate the book! J.K Rowling  has asked parent to let their kids imaginations run wild while reading the story & to create then submit their artwork.
Her publishers will be choosing the artwork for a published book from the submissions to come our later this year. Plus all her royalties from the sale of the full published book will be donated to charities helping those affected by COVID19.
Click here for the story so far (5 chapters to date that I have loved reading) and how to enter the competition.
And if the kids are inspired but her story why not keep that inspiration going….. Get them to create sets & act it out or even start an illustrated story of their own! As the winter weather hits why not turn your home into a haven for creativity & storytelling.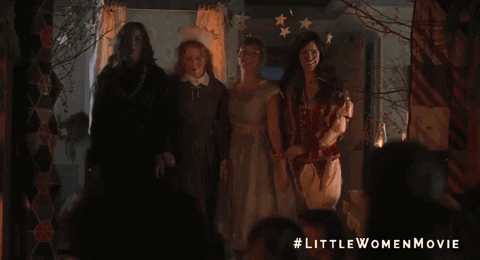 Tune in during Classic Drive next Friday during the 3 pm or 5 pm hour more ideas on how to spend your weekend during isolation.
Whether you go adventuring, plan to have popcorn or cosy up on the couch – I hope you stay safe & enjoy whatever is in your weekend planner!