Reading Time:
7
minutes
If you're happy that it's Friday put your hand up! If you're looking for weekend plans, keep it up there! Our resident event guru has a whole bunch of exciting options for you to sink your teeth into this weekend. Whether you're up for an adventure, want to make plans with popcorn or cosy up on the couch, check out what's on in our weekend planner below.
Want to Go Adventuring?
Mini Golfing with Pixar…
Ever wanted to go mini-golfing with your favourite Pixar characters? Well, you can! This is my TOP tip for the School Holiday! Pixar Putt returns to RAC Arena (The Plaza) from Friday 25 September for a limited 4-week season. Inspired by some of Pixar's most adored films, putt your way around 9 or 18 holes including Toy Story, The Incredibles, Finding Nemo, Monsters, Inc., Wall-E and more. While many familiar favourites will return, this year's Pixar Putt at RAC Arena will see the debut of some brand-new holes across the entire 18 hole course, including Disney-Pixar's latest hit, Onward which features 'Guinevere' the van; a new Toy Story 4 hole featuring Benson, the ventriloquist puppet henchman; and completely redesigned holes inspired by Pixar favourites, Ratatouille and Coco. Select from a wide range of tee-off times during the day or enjoy extended play with Pixar Putt After Dark sessions available Thursday to Saturday evenings until 10 pm. Booking online and in advance is strongly recommended. For more information and to tee up your #PixarPutt experience today, visit PixarPutt.com.au
Carnivals about Town …
Although there is no Royal Show this year, there are still plenty of ways to get your fill of showbags, carnival games, fairy floss & rides… plenty of rides! Here are the ways you can go thrill seeking this holidays
Carnival Fever on this Saturday 26th September through to Wednesday 30th September at Hillary's Boat Harbour. This affordable carnival has a whole pile of rides, show bags, food trucks, fairy floss and more plus it's right by the ocean at the beautiful Hillary's Boat Harbour, which is perfect for a fun day out. Get tickets here.
School's Out Fest in the city kicks off this long weekend for the School Holiday's. There are show bags and sideshow alley games at the Yagan Square Sideshow. The Fun Fair at Elizabeth Quay is stacked full of thrill seeker rides and all the tame fun ones as well. Then don't forget to stop at Dino-Land at Yagan Square to explore the maze in search of dinosaurs. So go exploring the city this weekend, enjoy the carnivals and then don't forget to stop by Yagan Square Market Hall for some food & free kids activities. Find all the details here.
Spring Farm Fair at Claremont Showgrounds all week will bring you the animals, agriculture and family fun you might have missed from the Royal Show. Hosted by the Royal Agricultural Society of WA you can see cuddly farm animals at the animal nursery. Embrace your inner scientist and discover where food comes from at the Little Hands on the Land exhibit. See cooking demonstrations and enjoy great live entertainment including a SciTech science show, and appearances from Paw Patrol & Trolls Plus there are still some rides, show bags, great food and a small business market. Get your tickets here.
Science Matters …
SciTech has a brand new, multisensory exhibition, exploring the changes happening on Earth and how we can innovate solutions for a more sustainable future. The new  Earth Matters Experience at Scitech this School Holidays you can dive deep into the science behind biodiversity, climate and carbon emissions and discover how the smallest of actions can have a big impact on the world around us. Find out all the details here.
Awesome Arts Festival…
The Awesome Arts Festival is back again this year with a wonderful line up for Bight Young Things. Over the next week, there are pop up activities, performances, workshops and book launches. So many great activities to choose from there is sure to be something for everyone in the family. I am, looking forward to The Adventures of Snugglepot and Cuddlepie and Jazz for Juniors. But with over 40 different events/activities to choose from, there is plenty to look forward to. Find out the full schedule and book into events here.
Popcorn Plans?
Family Fun at the Cinemas…
All the new Family Films out at the cinemas this School Holidays
Trolls: World Tour (G) – A fun follow-up for fans of the original, Trolls World Tour offers a second helping of colourful animation, infectious energy, and sing-along songs.
Paw Patrol: Jet to the Rescue (G) – When the scheming Duke of Flappington steals a powerful levitation gem from the royal castle, it's up to the PAW Patrol to jet to the rescue.
Astro Kid (G) – Following the destruction of their spaceship, ten-year-old William gets separated from his parents while travelling through the galaxy. As his rescue capsule lands on a wild and unexplored planet, he befriends the friendly robot Buck and kooky alien Flash.
Cats & Dogs 3 Paws Unite (G) – A supervillain parrot hatches a devious scheme to break the long-standing truce between cats and dogs.
Swimming for Gold (G) – Young elite swimmer Claire is sent to Australia to coach a boys swimming team, where she must overcome an old rival and a secret fear to save the swimming camp from closing.
The Secret Garden (PG) – Tells the story of Mary Lennox, a prickly 10-year-old girl, who is orphaned and sent to England to live with her uncle, on his remote country estate. After meeting her sickly cousin, Mary uncovers family secrets and goes on to discover a wondrous magical garden that will change their lives forever.
Leadership, Women in STEMM & a night out at the movies….
Luna Leederville is hosting a special screening of the incredible documentary The Leadership with a Q&A discussion on women in STEMM this Tuesday 29th September. Set against the planet's last untouched wilderness, The Leadership delivers an unexpected and original reflection on what it takes to be a good leader while unearthing the systemic obstacles to women's advancement in science and beyond. A great night out for you and your daughters, whether you are intere4sted in STEMM or not it is an insightful look into the challenges and how we are overcoming them for Women in leadership.
Get Cosy at the Drive-ins…
Trolls World Tour (G) is showing over the next few weeks at Galaxy Drive-ins. This sequel is sure to be just as fun, crazy and entertaining for both the kids and you as the first Trolls film. Perfect for a night out at the movies from the comfort of your car. Find out the details here.
Couch Cosies?
For the Family…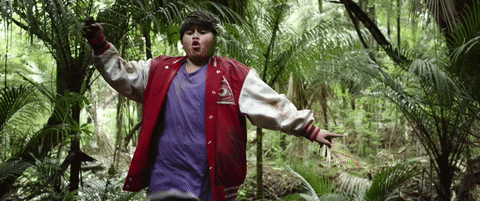 Hunt for the Wilderpeople (PG) is a wonderfully funny, quirky New Zealand film, available on SBS On Demand that is sure to keep the family laughing. This New Zealand adventure comedy-drama film written and directed by Taika Waititi follows Ricky, a defiant young city kid who finds himself on the run with his cantankerous foster uncle in the wild New Zealand bush. A national manhunt ensues, and the two are forced to put aside their differences and work together to survive in this hilarious and heartfelt adventure. Perfect for a family movie night at home.
Bluey (G) is always a classic, kids and adults alike love it! ABC iView has a whole pile of eps ready for that chilled day in on the couch.
Looking to paint this School Holiday and need some inspiration? The Joy of Painting with Bob Ross on SBS On Demand will inspire and encourage you through many different artistic projects. His enthusiasm and constant positivity and encouragement will captivate you just as it did the worldwide audiences since 1982.
Disney Plus has a whole host of wonderful films and TV shows for the whole family here are my top picks for these holidays:
Once Upon A Time (M) is a fun TV series for the family (aged 13+) to watch together, When the fairytale characters you know so well end up in our world, not knowing who they are, it is up to one young kid and a cynical young woman to save them. With all 7 seasons on Disney Plus, this is one to binge over a few weeks.
Spies in Disguise (PG) is a fun, light-hearted and sweet film starring the voices of Will Smith & Tom Holland. Super spy Lance Sterling is inadvertently transformed into a brave, fierce, majestic…. Pigeon! Great for a family movie night at home.
Becoming (PG) – Docuseries that looks at the lives and origin stories of world-class entertainers, musicians and athletes. With short episodes, it's perfect for some downtime when the chaos of chool hHlidays gets too much.
Chadwick Boseman – A Tribute for a King (PG) is a celebration of the Black Panther star's life and his lasting cultural imprint. From his portrayal of Jackie Robinson, Thurgood Marshall to T'Challa Chadwick Boseman created a career that championed important cultural stories. This special report shines a light on his career, his battle with cancer and the impact he had on those he worked with as well as his fans. Follow it up with a viewing of Black Panther (M), Civil War (M) or the last two Avengers (M) films.
Remembering RBG…
In the wake of the passing of legendary Ruth Bader Ginsberg (RBG highly recommend the documentary RBG (PG). On ABC iView & Binge this documentary delves not only into her life and what she accomplished but her personality and the people in her life that helped her be who she was to make the impact she has made. On the Basis of Sex on Binge, the biopic about the first part of your life is also a brilliant film, enjoyable to watch and brings you into some of her home life and the humble fierceness she possessed. Both films show how the following quote of hers sums up who she was as a leader. "Fight for the things that you care about, but do it in a way that will lead others to join you." – RBG
Tune in during Classic Drive next Friday during the 3 pm or 5 pm hour for more ideas on how to spend your time over the School Holidays! Plus as always the Sonshine Diary also has plenty of other options for your weekend plans.

Whether you go adventuring, plan to have popcorn or cosy up on the couch – I hope you stay safe & enjoy whatever is in your weekend planner!