Reading Time:
5
minutes
If you're happy that it's Friday give a shout! If you're happy that it's Friday and you're looking for weekend plans, give another shout because we've got you covered! Our resident event guru has a whole bunch of exciting options for you to sink your teeth into this weekend. Whether you're up for an adventure, want to make plans with popcorn or cosy up on the couch, check out what's on in our weekend planner below.
Want to Go Adventuring?
Let the Day Blossom …
With the weather forecast, this weekend is the perfect time to get to the S&R Blossom Festival. If you haven't been this festival is a must-see festival. At the beautiful S& R orchard in the hills, it is well worth a day trip with a picnic to experience the beauty of the orchard. If you don't want to bring your own picnic there is food and drink available, including an ice-cream truck. Plenty of fun for adults with Instagram worthy areas for photos, produce stalls and the stunning flowers and Japanese art to stroll through. Even more fun for the kids with tractor rides, an animal farm and a bouncy castle plus plenty of space to run and play amongst the flowers. the festival finishes next weekend so get in quick and book your tickets here.
Dance the Night Away …
Throwback to the 90s at The Ellington with their tribute to the music from the 90s & 2000s TONIGHT. Claire Fahie and her band will bring the best of R&B/ pop dance hits from that era including songs from Destiny's Child, TLC, HANSON and more. Book tickets here.
Soul Bowl with the Milford Street Shakers, Motown and soul music of the 1960s this Saturday night is not to be missed for anyone who loves a little Motown or wants to dance. Let this 11 piece R&B band get you up and dancing to classics like Stop! In the Name of Love, Ain't no Mountain High Enough and Dancing in the Street. Bring your own food platters and enjoy a unique night out. Get your tickets here and then get your dancing shoes ready.
Family Fun with a Purpose…
Get the family together and go scavenging with a purpose. The Family Scavenger Hunt for Alzheimer's WA is a wonderful way to support a good cause and have some fun exploring King's Park together. Hosted by Off the Grid 365 you'll be armed with a map and a page of pictures as you navigate Kings Park and create your own Adventure. With easy, medium and hard levels to choose from the whole family can have fun from beginners to those of you whom scavenging is a way of life. Find all the details and book here.
Popcorn Plans?
 Shaken not Stirred…
The new James Bond 007 trailer dropped recently. Have you seen it? Looking forward to the new Bond film? Palace Cinemas has been showing a double feature of the classics on the big screen like many of us have probably never seen them, each Sunday!  In anticipation of the new film. This week is 'The Man with the Golden Gun' & 'The Spy Who Loved Me'. Book your tickets here and get the tux ready.
Theatre on the Big Screen…
The National Theatre has brought the stage to screen with 'Frankenstein', captured live in 2011 this spectacular stage adaptation of the classic Mary Shelley novel is back in cinemas for one week only. Starring Benedict Cumberbatch and Jonny Lee Miller plus directed by Academy Award winner Danny Boyle this is more than a film or a play it's an experience. While we can't see West End Plays right now this gives us a way to continue to experience some of the best theatre in the world. See it at Luna Palace Cinemas this weekend.
Couch Cosies?
Streaming Services…..
'Julie & the Phantoms', rated PG, is a new Netflix show that is a blend of 'High School Musical' with 'Beetlejuice' and a little 'Bill & Ted' thrown in. Odd combo I know but it somehow works! Julie struggling to find her way back to music a year after her Mother died listens to an old CD she finds in her Mother's music studio and this brings to her three ghost musicians who died hours before playing the gig that would have shot them to stardom 25 years earlier in 1995. These ghosts manage to help Julie find her love and passion for music again and somehow are heard and visible to others when they perform with her.  It does contain elements of the "supernatural" but in a way that is whimsical and not realistic. Fun series with great music and worth a watch with your tweens and teens. Watch with them so you can talk through some of the supernatural and emotionally heavier themes.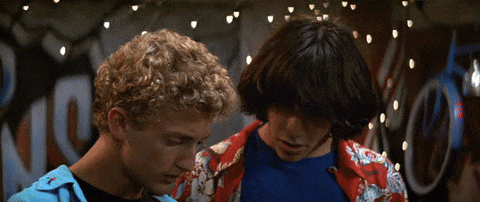 Heading out to see Bill & Ted: Face the Music soon? Catch up on the original films both available on Stan. 'Bill & Ted's Excellent Adventure', the first is a fun and outrageous comedy that for those who lived the 90s will bring bad the hilarity of that era. Then keep going with 'Bill & Ted's Bogus Journey' before heading out to see the new film, that manages to be just as outrageous and brings back the vibe from the originals.
This month is Sustainable September and although there are many great shows, documentaries etc. out there I highly recommend the documentary '2040′. If you watch nothing else this is a great one to see and is available on Binge. Created by an Australian Documentarian and explained in easy to understand ways you can start to understand some of the issues we face and some solutions that already exist to combat Climate change. Or want something find and light-hearted to watch then Stargirl, the new DC superhero series is a great one to watch.
Free to Air….
Looking for a new series to watch? 'Bluff City Law' has just been released on 9Now and is a great light-hearted drama that although is deep still leaves you feeling good at the end.   Or if you are looking for more action more seasons of '24' have been added so you can now binge-watch the entire series!
With entire seasons of 'Survivor SA, Survivor NZ & Survivor Australia' now on 10Play there is plenty to watch for any survivor fan. Or watch the first season of 'L.A's Finest' before the second season hits soon.
7Plus now has all seasons of 'Code Black' available. 'Code Black' is a serial drama based on an emergency room in LA that is the most overworked and understaffed in all of the US. Continue the Hospital & Emergency workers theme with 'The Good Doctor', 'The Night Shift', 'The Resident', '9-11′ and 'All Saints'.
Over on ABC iView there are new episodes of 'Daniel Tiger's Neighbourhood' for the kids. This is a show that came out of the US Mr Roger's Neighbourhood show that ran for decades and changed kids TV.
Tune in during Classic Drive next Friday during the 3 pm or 5 pm hour more ideas on how to spend your time over the School Holidays! Plus as always the Sonshine Diary also has plenty of other options for your weekend plans.

Whether you go adventuring, plan to have popcorn or cosy up on the couch – I hope you stay safe & enjoy whatever is in your weekend planner!