Reading Time:
2
minutes
Lunchtime is always an interesting time here at the 98five office. When all the staff get together to eat and take a break, the conversation can sometimes get pretty interesting.
A few days ago, we got onto the topic of the humble home phone and how it used to be an absolute staple in the house.
"I remember when I was a kid, we had two home phones which meant if someone was talking on one handset, you could pick up the other handset and listen in. I have no idea why I eavesdropped on my mum's conversations – but I did!" Corey reminisced.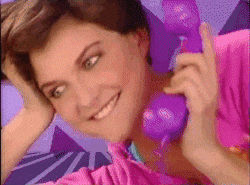 But surely the home phone is redundant now, right?
Corey's household got rid of their landlines years ago when they all got mobiles and most of the office staff said the same thing. (Granted most of the staff are under 35 years old.) Except for our CEO, boss-man Bevan said his family still has one, he only really talks to telemarketers on it, but they still have it.
So this morning on The Breakfast Show, Corey put it to the Family and asked, do you still have a home phone?
This is what the Family had to say!
Jesse from Beldon, who is in primary school, told Corey they have to have one because they get no mobile reception where they live. 
Leanne from Sinagra uses her home phone to call her family in South Africa because it's much cheaper than using a mobile. 
Johanne from Brabham says his family always have their mobiles on silent, so they never answer. But when he rings the home phone "viola! they answer!".
Justin from Treeby's wife works from home so she needs a landline.
Bernice from Quinns Rocks called Corey from her landline, with the long curly cord and all! Her kids are amazed by it, they ask "what's the cord for?"
Alex from Aveley uses his home phone to call his "grandad, nana or mum when she goes to the shop."
So there it is, the home phone is alive and well!